Hearing loss is a challenging yet often inevitable reality that is often coupled with healthy aging. While in the past it was a condition you had to endure, there are now many hearing aids on the market that provide excellent support for seniors with diminishing auditory faculties.
We reviewed many of the hearing aids on the market and here are some of our favorites.
Best Overall: Eargo
"Invisible" hearing aids.
Most Personalization: Widex
Brand with lots of customization options.
Great Performance: Embrace
---
Eargo – Best Overall
We loved the Eargo because of its high quality and sleek, in-ear design. In-ear design is important because it's much more discreet than the behind-the-ear designs. Because of that, the brand claims that their design is nearly invisible.
The brand earned its reputation among the best on the market because of its noteworthy audio quality, superior comfort level, and superb ease-of-use.
Features
Eargo offers excellent noise reduction, feedback cancellation, and added stable gain to provide a crisp audio experience. The aids also come with a companion mobile app available on both iOS and Android, which allows you to check the battery status of your device and personalize the sound settings for the environment you're in.
Service
Devices come with one and two-year warranties and include lifetime support.
Ease of use
A full charge lasts an entire week. Users said the aids are comfortable and easy to set up.
Cost
Models range from $1,850 to $2,650, with flexible payment plans starting at $86/mo. Devices come with a 45-day money-back guarantee.
Additional features
There are options that allow you to change the sound profile. All you have to do is double-tap on your ear to toggle between them.
---
Widex – Most Personalization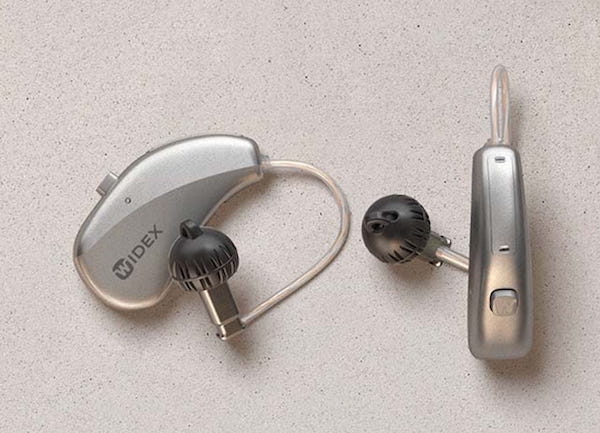 Widex was one of our favorites because the brand provides for a significant level of personalization. The brand has an array of styles including receiver in-canal, completely in-canal, and behind-the-ear for many of its models, so you can even try another if you find one of the designs is not suitable for you. Additionally, there are numerous models available on a spectrum that consider your budget and level of hearing, offering something for just about everyone.
Features
As one of the largest manufacturers in the world, Widex is a leading innovator in hearing aid technology. Most models provide wireless connectivity, TV/mobile compatibility, and personal acclimatization.
Service
One-year warranty for repairs and coverage for loss and damage. Some models offer two or three years of support, with extended warranties available for purchase.
Ease of use
Given the three styles available, Widex provides significant personalization to meet the user's hearing loss level and comfort levels. Setup is often supported by the help of a hearing professional.
Cost
The base cost varies from $750 to $2,860 per unit. They also offer a free, no-obligation trial.
Additional features
Widex is attributed to creating the world's first hearing aid that uses machine learning technology in the aid.
---
Embrace – Great Performance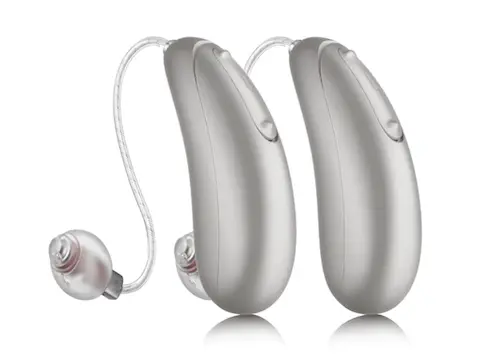 We included Embrace in our list of top hearing aids because of its excellent overall performance despite being one of the more affordable units available. With three models available (S-Series, R-Series, C-Series), it's one of the best value aids for consumers.
Features
A powerful unit that delivers excellent clarity in most situations with fully dynamic speech focus software. There are three models that offer hands-free phone calls and TV streaming. There is also the option to connect to its iPhone or Android app, which allows you to alter the volume or modify the piece for the environment you're in.
Service
Two to three years of warranty and 24/7 support.
Ease of use
Users have embraced the comfort of these units. Setup is a breeze since all models offer 24/7 user support.
Cost
Models start at $899 with a 45-day money-back guarantee.
Additional features
Additionally, Embrace Hearing allows users to upload audiogram results to pre-program their devices.
---
Honorable Mentions
---
Audicus: Best Customer Service
---
Factors to Prioritize in Your Search
Features
‍In addition to the obvious feature of noise amplification, we looked for capabilities like software-aided sound. Many of the units also had technologies to reduce ambient noise, collect noise from front and behind, and connect to your mobile device through Bluetooth.
Service
Many brands offer some level of warranty, but we specifically looked for those that have money-back guarantees and live technical support.
Ease of use
Often, you might find the process of setting up and debugging a hearing aid overwhelming. We looked for those that have received rave reviews for simple setup and troubleshooting.
Cost
‍Given their sophisticated hardware, hearing aids can be quite pricey. On average, they cost from $1,000 to $4,000. Medicare and traditional insurance plans do not cover the cost of hearing aids or exams, but some Medicare Advantage (Part C) plans offer hearing benefits.
Additional features
Several of tthe brands had various styles available to maximize user comfort.
Types of Hearing Aids
Hearing aids are simple devices that amplify noises from the environment into your ear. Based on your level of hearing loss, it converts these external sounds to a level suitable for you. There are also several key designs that you should consider when you're on the market for a hearing aid. Here are some of the most common types:
Completely in canal (CIC)
CIC aids are molded to fit inside your ear. Due to their smaller size, they are often referred to as 'invisible' but can get clogged from ear wax.
In the canal (ITC)
These aids are designed to partially fit in the canal. Because they're bigger than the CICs, they tend to have a longer battery life and more features. However, they're susceptible to ear way and moisture damage.
In the ear (ITE)
These either fill most of the shell of the outer ear or only the lower part. They generally are less powerful than behind-the-ear aids. But, they are usually custom fit and barely visible.
Behind-the-ear (BTE)
BTE aids hook the top of the ear and rest behind the ear. They are the most common type of hearing aids, but they tend to be the largest and most visible. BTEs are best suited for moderate or severe hearing loss.
Consult an Audiologist
Before you go about purchasing one, see your physician or audiologist for a checkup and get your ears tested. They will assess your level of hearing loss and help you choose the most appropriate design for your ear's anatomy.
Then, identify the factors most important to your decision like features, cost, and warranty coverage. Since hearing aids can often cost thousands of dollars, it's vital to assess all your options to determine which one will work best for you.
While some folks are merely looking for a cheap hearing aid, it's helpful to understand your current hearing level and comfort with the different designs to select the best one for your needs. Some of the brands we reviewed offer different styles like in-ear or over-ear, with varying levels of amplification based on your audiogram results.
Hearing aids often have a learning curve for your ear. You may initially be irritated by the noise amplification, but your ears will adjust over time.
One thing to note is that hearing aids don't return your hearing to normal; they're merely what their name entails (aids) that bolster your existing levels. As such, you will need to "practice" to get them acclimated to their new companion. This may require some additional trips to the doctor as you get accustomed to the experience and identify where you could use some modifications.
All in all, enjoy them for what they are. Fortunately, they have gotten very good over the years!